A great vacation makes you never want to come back.
My family visited Costa Rica in March 2021 for Spring Break. After a year of too much isolation and too little of everything else, the adventure and warm hospitality of Costa Rica will be just what the doctor ordered.
(Check out my two videos at the end of the post.)
If you want to do more than get away - if you want adventure and rejuvenation - Costa Rica and the lovely people of its lush green paradise await you. 
Pro tip: Costa Rica is best visited late fall through April before the rainy season.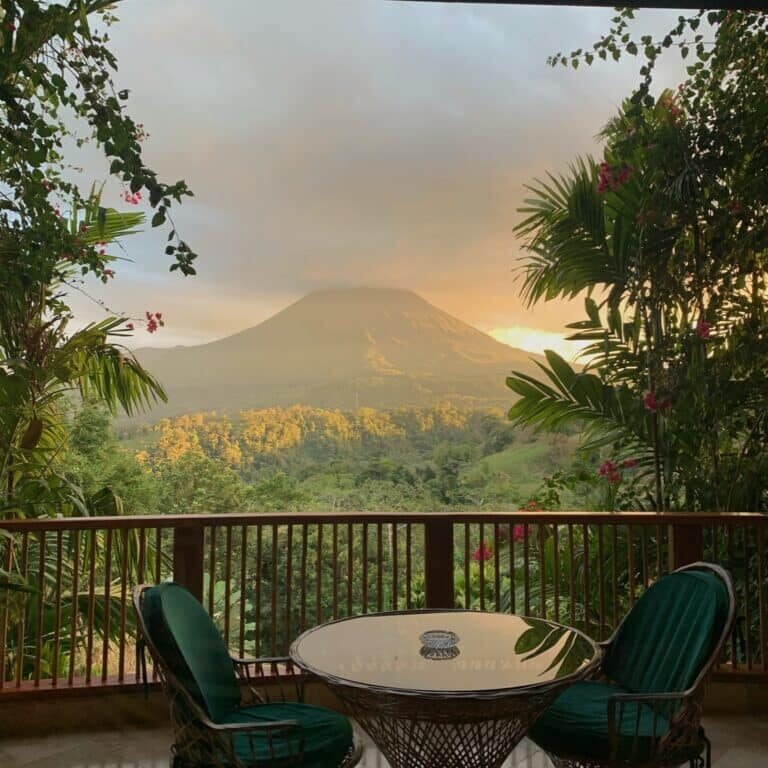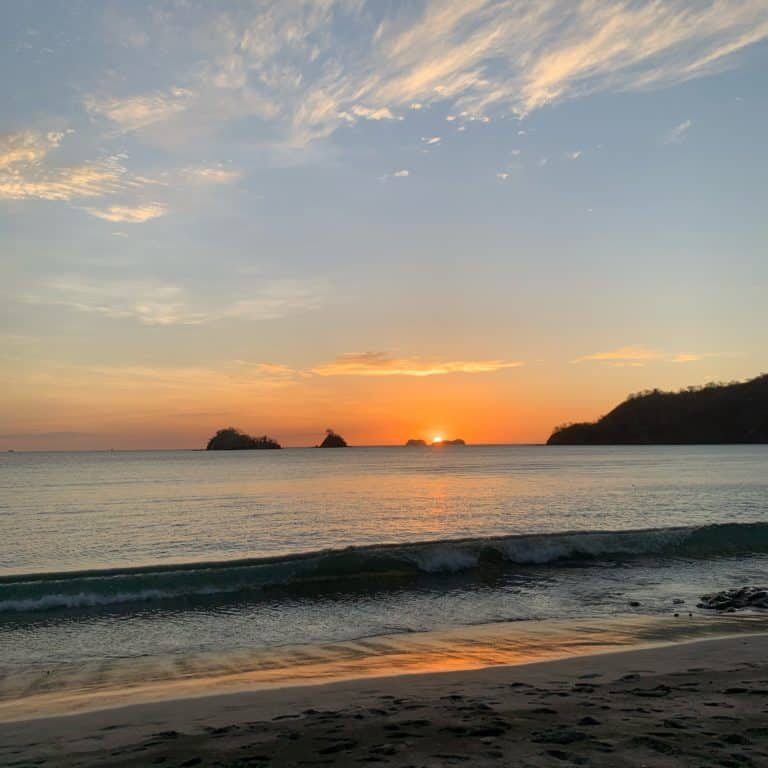 Costa Rica is pure paradise - from the amazing rainforests of Arenal to the warm beaches of Guanacaste, plus volcanos, mountains and all the excitement you can handle.
With a vibe that feels more like South America than Central America, the country sits between Nicaragua and Panama, offers Caribbean and Atlantic coastlines and a tremendously diverse ecosystem. Across its lush and vast protected lands, you'll find brilliant blue hummingbirds, scarlet macaws, orchids of every color, and Costa Rica's national flower the Guaria Morada, or the purple country girl.
Costa Rica is meant to be enjoyed, explored and experienced in a deep way -  not just the places but the people.
The locals treat you like family, even more when you take the time to get to know them and share the laughter and stories that bind us beyond our borders.
Everywhere you go, you're welcomed with Pura vida, or pure life - the simple spirit with which Costa Ricans express greetings, blessings, you're welcome and no worries.
You can't experience it all in one trip and you wouldn't want to.
The best way to immerse yourself in Costa Rica is a seven-day, six-night stay.
Plus it's closer than you think - just a super easy 3 ½-hour flight from Atlanta into Liberia, which is far less crowded than the capital city of San José. On your way to your first destination Arenal - Costa Rica's rainforest and volcano region - stop in at Café & Macadamia. It is a perfect place to stop mid-way and have lunch looking at Lake Arenal.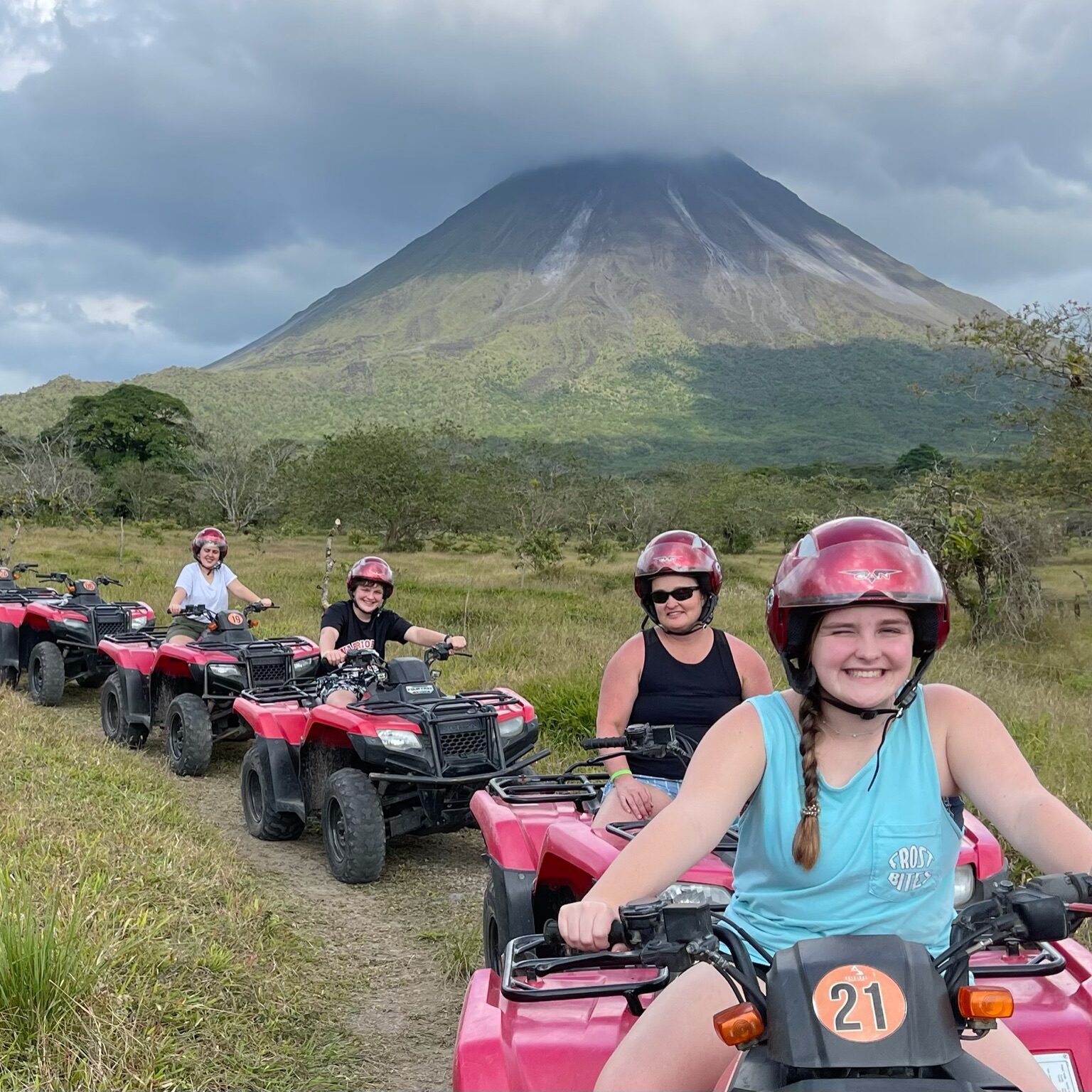 Adventure, Adventure, Adventure!
Adventure rejuvenates in its own ways, different than a week with your toes in the sand but still transformational.
Costa Rica is an adventurer's paradise: kayaking, horseback-riding, ATVs, even cave tubing and rappelling down waterfalls. Even if you don't think of yourself as the adventurist type, soaring through the treetops on some of the world's most amazing zip lines will change your mind.
Some excursions might be a bit much for the younger ones but otherwise Costa Rica is a great family destination as well as romantic getaway for couples.
Curated Convenience from We Travel Luxe
Tours & Guides
Even with all this adventure, you'll still experience ease. We Luxe Travel works with only the best tours and guides - those we've known and trusted for years to ensure you get the experience you expect.
Getting Around
Our local drivers are the best: kind, knowledgeable, and willing to share tips and tricks to help get you around and save you money. We also recommend having a car to make things easier and to save on transportation costs.
Help Available 24/7
Our travel advisors make sure every detail is taken care of and can adjust on the fly 24/7 - all you have to do is call or text.
Casados and Sangria by Sunset
After spending your days on the go, you'll want to kick back and relax with good food and good times. And in Costa Rica, it's not so much what you eat as where you eat it. There are plenty of restaurants and bars with sunset vistas - whether you're sipping cocktails or settling down for dinner after a day of excitement. There are family-owned, mountain-top restaurants where the view spans as far as neighboring Nicaragua.
Costa Rica isn't about cuisine. It's about fresh, local everything prepared with love and washed down with a cool sangria. You can get your fill of fish, tacos, smoked meats - even a good ol burger - just about anywhere. But do try a casado. Spanish for "married" or "married man," it's a tasty union of rice, beans, salad, tortillas, fried plantains and meat. If you want to add some spice, just reach for a bottle of Chilero Sauce. Some restaurants you'll want to check out include Jalapas, Pollo Fortuneno and Sentido Norte.
If you need a rest day, take in the many volcano-heated hot springs to soothe anything that ails you. In addition to those you'll find on your adventures, there are hot springs located near Costa Rica's many luxury hotels and resorts, which offer private spaces with plunge pools surrounded by beautiful, garden-like surroundings - perfect for peace and seclusion.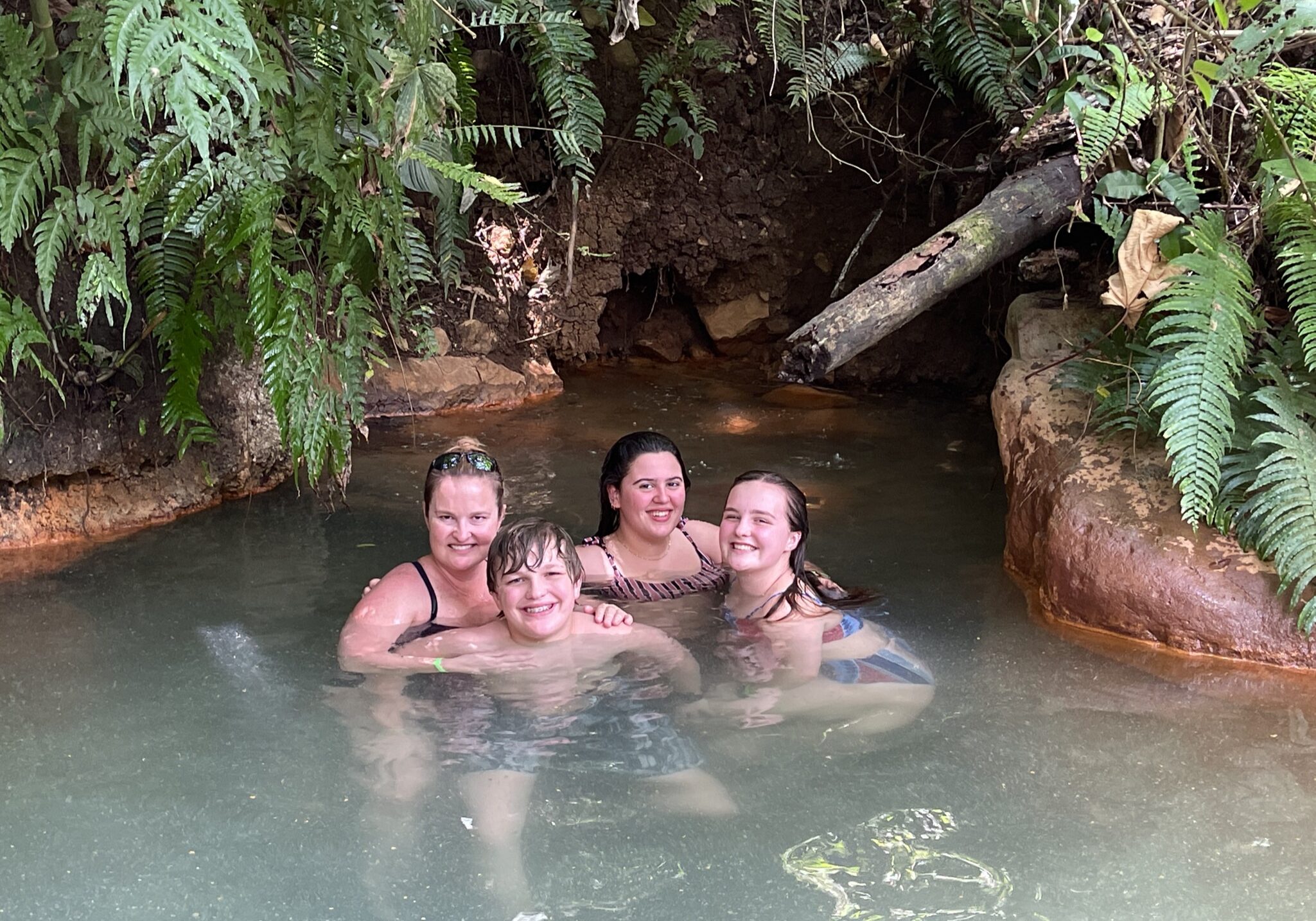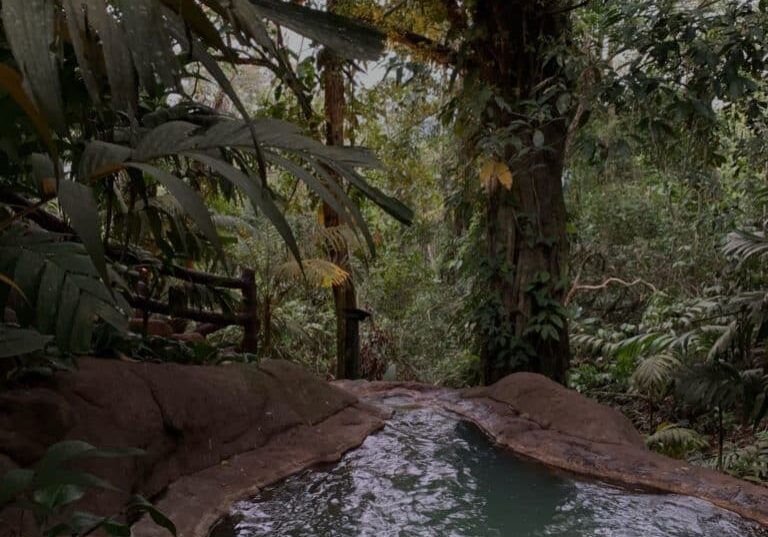 Where We Stayed in Costa Rica
The Springs Resort & Spa
With a spectacular view of the Arenal Volcano, natural hot and cold springs, five unique dining experiences, and an impressive full-service Spa, The Springs Resort and Spa at Arenal promises to overwhelm you in every aspect of quality, service and design.
The Springs Virtuoso Amenities For 2021
Booking with We Travel Luxe offers special amenities such as upgrades on arrival at The Springs Resort & Spa, subject to availability, as well as:
Daily Breakfast for two guests per bedroom
A $125 Spa Credit per accommodation, per stay. This excludes Las Hojas Forest Spa Experience.
One complimentary Club Rio Tour per person for a maximum of two guests, per accommodation, per stay. (Tours available daily from 8am - 3:45 pm)
Complimentary Wi-Fi
Las Catalinas
While not a Virtuoso property, the second place we stayed at the beach in Costa Rica was a villa community called Las Catalinas. Las Catalinas is an enchanting new beach town located on the Guanacaste Coast of Costa Rica. Its purpose is to create a way of life that is healthy, sustainable, fulfilling, and fun.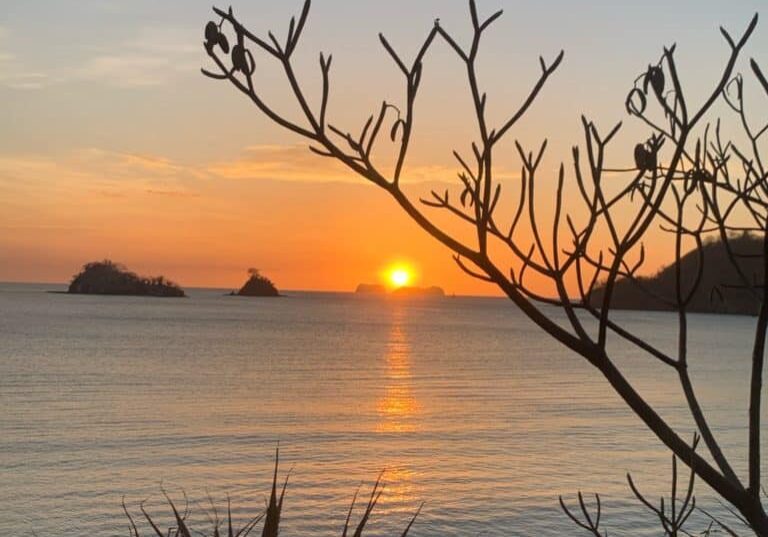 And Yes, The Beach (Plus Hot Springs!)
When it's time to relax, Costa Rica offers countless beautiful beaches. Mother Nature puts on a ceremony every night with sunsets that will bring tears to your eyes. These views and the clear ocean water are reminders that some places make it easier to see just how beautiful life is.
Get ready for a temperature shift though! The cool mountains of Arenal give way to 90-degree days close to the equator in beach towns like Los Catalinas, Guanacaste and Manuel Antonio further south. Los Catalinas looks and feels like a small Greek village while Guanacaste offers nearby Finca don Rafa, one of Costa Rica's many famous waterfalls. Flamingo Beach on the Gold Coast is home to the famous Coco Loco where you can enjoy fresh-caught fish and great cocktails right on the beach. Like most great places in Costa Rica, you'll want to have a reservation.
These small communities by the sea still offer all the adventure you're looking for - including fishing, snorkeling and catamaran excursions, complete with cocktails - plus coffee shops, restaurants, shopping and more. No matter where you spend your time in the sand, be sure to rent all the beach gear you'll need including umbrellas, blankets and floats.
How Costa Rica Makes You Feel
In short, like you never want to leave. And the locals don't want you to either. There's hospitality that comes from convenience, from luxury but nothing beats the hospitality of the Costa Rican people whose warm, close-knit communities open wide for visitors, especially those who are ready to be treated like family. You'll be miles from home but you won't feel like it. That's Pura Vida!
To us Southerners, it's like hearing 'Ya'll come back now, ya' hear!"
Ready to find out more?
Drop us a line today to start planning your Costa Rica trip today.
Check out my video! Part One of our Costa Rica Adventure in the Arenal Valley and The Springs Resort & Spa.
Check out my video! Part Two of our Costa Rica Adventure at the beach and the villa community of Las Catalinas.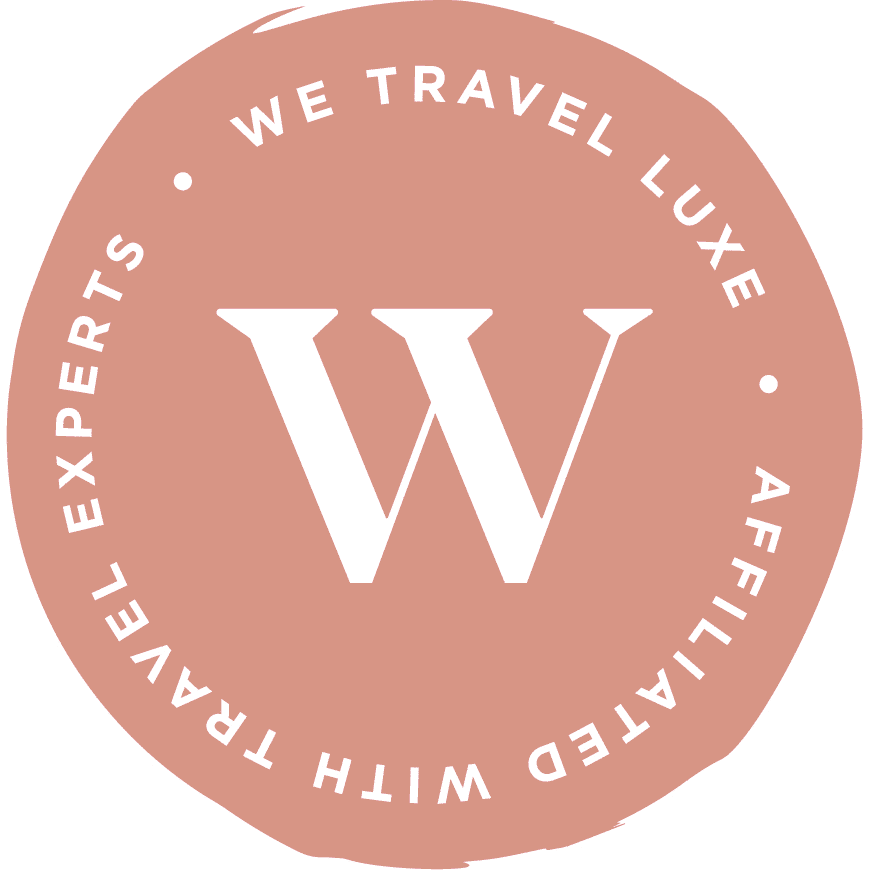 We Travel Luxe is a boutique travel agency affiliated with Travel Experts, a Virtuoso member, in Nashville, Tennessee. We help our clients see the world and help deliver unique experiences, adventures, and unforgettable moments that will last a lifetime! Please connect so we can start planning YOUR special experience!